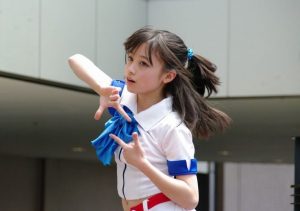 Roughly 3 years ago, this picture of a local idol from Fukuoka sparked furious discussions in Japan's internet sphere. This phenomenon of a girl photograph dubbed "once in a millenium Idol " even reached mainstream media on the same day.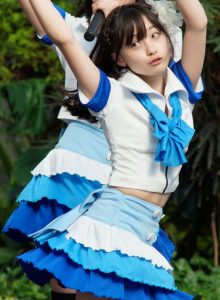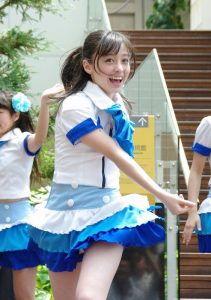 Kanna Hashimoto was born in February 3, 1999 in Fukuoka Prefecture, Japan. She is the member of local idol group "Rev. from DVL." that based in Hakata, Fukuoka.
Since then, Kanna Hashimoto's popularity is unstoppable and she already appeared in so many commercial of Japan popular brands.
She has also starred in several drama and movies as supporting actress. In 2017, she has a major role in Gintama movie as Kagura.
Career
When Hashimoto was in third grade, she signed with the agency Active Hakata in her hometown, Fukuoka. She became a member of the all-female pop group Rev. from DVL. In 2011, Hashimoto appeared in the movie I Wish.
In 2013, Hashimoto gained national attention when a photo of her taken at one of Rev. from DVL's live performances went viral on 2channel and Twitter. Praised for her natural beauty, she was given titles such as "beyond cute local idol", "beyond angelic idol", and "a talent appearing once in a millennium."
Movies
Gintama (2017) – Kagura
Haruta & Chika | Haruchika (2017) – Chika Homura (Chika)
Assassination Classroom: Graduation | Ansatsu Kyoshitsu -Sotsugyou Hen- (2016) – Ritsu
Sailor Suit and Machine Gun: Graduation | Sera Fuku to Kikanju: Sotsugyo (2016) – Izumi Hoshi
Assassination Classroom | Ansatsu Kyoshitsu (2015) – Ritsu
I Wish | Kiseki (2011)
Drama Series
Water Polo Yankees | Suikyu Yankisu (Fuji TV / 2014) – herself
Commercials
Jibannet Holdings – Jiban Second Opinion (2013)[
SoftBank Mobile – White Family (2014)
TV Tokyo – 2014 World Team Table Tennis Championships (2014)
Cyber Agent – Ameba Girl Friend Beta (2014-)
Megmilk Snow Brand Company, Limited – Neosoft "Koku Aru Butter Fūmi" (2014-)
Bandai – Aikatsu! (2014-)
Nissin Foods – Cup noodle (2015)
Rohto Pharmaceutical Co. – Lip Baby Crayon/Lip Baby Fruits (2015)
Recruit – Townwork (2016)
[BONUS ! Rev.from DVL「LOVE-arigatou-」Kanna Hashimoto×Girlfriend Ver.]
[Kanna Hashimoto Melty Cream Lip CM]