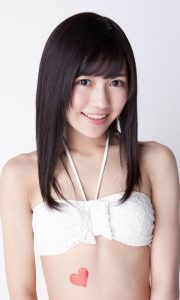 The graduation schedule with detail of AKB48 member Mayu Watanabe has been revealed. As an official announcement published at a joint live concert "Tadaima Renaichu" between HKT48's Himawarigumi and AKB48's Team B in Fukuoka.
Mayu's graduation concert will take place during Halloween on October 31 at the Saitama Super Arena, prior to that her last national handshake event will take place in Nagoya on October 28th. After the concert she will participate in one more final handshake event in Yokohama on November 18. Mayu's graduation was initially announced during the 9th Senbatsu Sousenkyo in June, however, no further details were released at that time.
Mayu Watanabe got her start as a 3rd generation member, her inclusion in AKB48 was announced in December 2006. She instantly became one of the most popular members, having been at the forefront of the group for the last 10 years. In 2009 Mayu was selected to be a member in the sub-unit Watarirouka Hashiritai. She would go on to participate in two more sub-units, Team Dragon from AKB48 and NO NAME. Mayu released 5 successful solo singles during her tenure in the group.
In AKB48's first Senbatsu Election Mayu came in 4th place, giving her the privilege of being in the original famed "Kami 7" group.  The other members included Atsuko Maeda, Yuko Oshima, Mariko Shinoda, Tomomi Itano, Minami Takahashi, and Haruna Koijima. Mayu's graduation officially marks the end of an era in AKB48.
With Saitama being Mayu's hometown this will undoubtedly be a very special show for herself and AKB48 fans.
[AKB48 | Private Summer]
[AKB48 | Give Up wa Shinai]