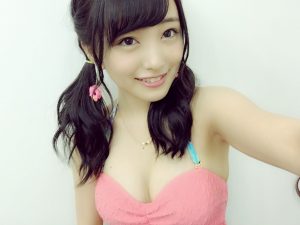 Here you can watch AKB48 Mion Mukaichi's gravure making video clip.
Mion Mukaichi (born 29 January 1998) is a member of the Japanese girls idol group AKB48 and its Team K. As for her career, before she join AKB48, Mukaichi used to be a quite famous child actress, however, she quit acting when she was 5th grade in order to concentrate her elementary school studies. After she entered junior high school, she was represented by talent agency Ii Concept and appeared in a number of television dramas, such as Unfair, and movies, such as Unfair: The Movie.
In January 2013, she took part and passed the AKB48's 15th generation auditions, eventually joining the group as a trainee member. In February 2014, during the group's Daisokaku Matsuri, finally she joined to Team 4.
In 2014, Mukaichi represented as the center position for the song called "Heavy Rotation", after being nominated by Yuko Oshima, the core member of AKB48 at that time. She also starred in Sailor Zombie as a guest role in episode 2. She became a member to sing the group's 38th single title track "Kibouteki Refrain". This was her first time as one of the selected members.
Mukaichi will be starring in the movie Unfair: The End, the final part of the series "Unfair", released in September 2015. One of her episodes is that the producer of the film in fact did not know Mukaichi had joined AKB48 and saying Mukaichi actually played a important of the film. She again got the center position for the group's 44th single "Tsubasa wa Iranai", released on June 1, 2016.
Movies
Raison D'etre: Documentary of AKB48 | Sonzai Suru Riyu Documentary of AKB48 (2016) – herself
Unfair: The End | Anfea the end (2015) – Mio Yukihira (Natsumi Yukihira's daughter)
Twilight Syndrome: Dead Cruise (2008)
Gegege no Kitaro: Kitaro and the Millennium Curse | Gegege no Kitaro: Sennen noroi uta (2008) – Haruka
Unfair: The Movie | Anfea: The Movie (2007) – Mio Yukihira
Bayside Shakedown 2 | Odoru daisosasen the movie 2: Rainbow Bridge wo fuusa seyo! (2003) – Rikako
Drama Series
Majisuka Gakuen 4 (NTV) – Jisedai
Sailor Zombie | Sera Zonbi (TV Tokyo / 2014) – giant zombi (ep.2)
Gekai Hatomura Shugoro (Fuji TV / 2004)
Hataraki Man (2007 / NTV) – Misaki Yamaguchi (ep. 11)
Iryu: Team Medical Dragon (Fuji TV / 2006) – Juri Tokichi
Unfair (Fuji TV / 2006) – Mio Yukihira
Toshiie and Matsu | Toshiie to matsu: kaga hyakumangoku monogatari (NHK / Toshiie to matsu: kaga hyakumangoku monogatari) – Hatsuhime
TV Movies
Flight Panic (Fuji TV / 2007) – Megumi Yagimoto
Papa no Namida de Ko wa Sodatsu (Fuji TV / 2007) – Kaya Kawamura
[AKB48 Mion Mukaichi Gravure Making Video 2016]