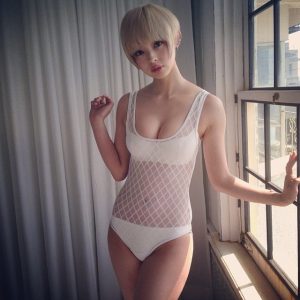 Moga Mogami (Mogami Moga) and other Dempagumi.inc members announced that Mogami had left popular Otaku idol-pop group Dempagumi.inc, due to her health-related issues for a long period. Although she does not mean to go into specifics, Mogami commented in her regular program that she had long faced health-related issues that have in fact caused her to take days off from Dempagumi.inc. It goes on to say she often felt guilty about having to take these absences, and that her opinion of the other five members of the group remain the same. She then apologizes for the situation.
Mogami plans to pursue a solo career when her health allows her to. Meanwhile, Dempagumi.inc will continue on as a five-person group.
Although Mogami's announcement does not mean Dempagumi.inc will end anytime soon at all, the news marks the end of an era for a group that became one of the last idol outfits to crossover to the J-pop mainstream this decade. Mogami was seen by many as the most popular – or at least most recognisable – of the unit, thanks in part to her work as a model and roles in several TV shows.
Dempagumi.inc came together in 2008, though it took until the end of 2011 for the most well-known line-up to come together. Mogami, who sported purple in Dempagumi, joined in December 2011 alongside Ayane Fujisaki. They attracted attention for high-energy songs built off the often chaotic stylings of "denpa" songs, hence the name. The fact their songs featured twists and turns galore at a time when much idol music was content to be as simplistic as possible also helped. Denpagumi.inc remained relatively obscure until 2013, thanks to their breakout single "W.W.D."
The group continued to grow in popularity, moving higher on sales charts and appearing in more ads. Whereas many other similar idol groups failed to get mainstream looks after the early 2010 idol boom, Dempagumi.inc crossed over. Mogami's visibility certainly helped, and was one of the factor's they have managed to continue landing well-charting songs and ad tie-ups.
Dempagumi.inc
Dempagumi.inc is a Japanese female idol group from Akihabara, Tokyo. Their music generally follows the style of denpa song. All members are said to be former otaku.
[Moga Mogami gravure Scene]